Looking for best airfares and convenient bookings?
It's FREE until 3 bookings.

+ 1
No result found

Afghanistan ( +0 )

Albania ( +355 )

Algeria ( +213 )

American Samoa ( +0 )

Andorra ( +376 )

Angola ( +244 )

Anguilla ( +1264 )

Antarctica ( +0 )

Antigua and Barbuda ( +1268 )

Argentina ( +54 )

Armenia ( +374 )

Aruba ( +297 )

Australia ( +61 )

Austria ( +43 )

Azerbaijan ( +994 )

Bahamas ( +1242 )

Bahrain ( +973 )

Bangladesh ( +880 )

Barbados ( +1246 )

Belarus ( +375 )

Belgium ( +32 )

Belize ( +501 )

Benin ( +229 )

Bermuda ( +1441 )

Bhutan ( +975 )

Bolivia ( +591 )

Bosnia and Herzegovina ( +387 )

Botswana ( +267 )

Bouvet Island ( +0 )

Brazil ( +55 )

British Indian Ocean Territory ( +0 )

British Virgin Islands ( +0 )

Brunei ( +673 )

Bulgaria ( +359 )

Burkina Faso ( +226 )

Burundi ( +0 )

Cambodia ( +855 )

Cameroon ( +237 )

Canada ( +1 )

Cape Verde ( +238 )

Cayman Islands ( +1345 )

Central African Republic ( +0 )

Chad ( +235 )

Chile ( +56 )

China ( +86 )

Christmas Island ( +0 )

Cocos Islands ( +0 )

Colombia ( +57 )

Comoros ( +0 )

Cook Islands ( +682 )

Costa Rica ( +506 )

Croatia ( +385 )

Cuba ( +53 )

Cyprus ( +357 )

Czech Republic ( +420 )

Democratic Republic of the Congo ( +0 )

Denmark ( +45 )

Djibouti ( +253 )

Dominica ( +0 )

Dominican Republic ( +1 )

East Timor ( +0 )

Ecuador ( +593 )

Egypt ( +20 )

El Salvador ( +503 )

Equatorial Guinea ( +240 )

Eritrea ( +291 )

Estonia ( +372 )

Ethiopia ( +251 )

Falkland Islands ( +0 )

Faroe Islands ( +0 )

Fiji ( +679 )

Finland ( +358 )

France ( +33 )

French Guiana ( +689 )

French Polynesia ( +689 )

French Southern Territories ( +0 )

Gabon ( +241 )

Gambia ( +220 )

Georgia ( +995 )

Germany ( +49 )

Ghana ( +233 )

Gibraltar ( +350 )

Greece ( +30 )

Greenland ( +299 )

Grenada ( +1 )

Guadeloupe ( +0 )

Guam ( +1 )

Guatemala ( +502 )

Guinea ( +0 )

Guinea-Bissau ( +0 )

Guyana ( +0 )

Haiti ( +0 )

Heard Island and McDonald Islands ( +0 )

Honduras ( +504 )

Hong Kong ( +852 )

Hungary ( +36 )

Iceland ( +354 )

India ( +91 )

Indonesia ( +62 )

Iran ( +98 )

Iraq ( +964 )

Ireland ( +353 )

Israel ( +972 )

Italy ( +39 )

Ivory Coast ( +0 )

Jamaica ( +1 )

Japan ( +81 )

Jordan ( +962 )

Kazakhstan ( +7 )

Kenya ( +254 )

Kiribati ( +0 )

Kuwait ( +965 )

Kyrgyzstan ( +0 )

Laos ( +856 )

Latvia ( +371 )

Lebanon ( +961 )

Lesotho ( +0 )

Liberia ( +0 )

Libya ( +218 )

Liechtenstein ( +423 )

Lithuania ( +370 )

Luxembourg ( +352 )

Macao ( +853 )

Macedonia ( +389 )

Madagascar ( +261 )

Malawi ( +265 )

Malaysia ( +60 )

Maldives ( +960 )

Mali ( +223 )

Malta ( +356 )

Marshall Islands ( +0 )

Martinique ( +222 )

Mauritania ( +0 )

Mauritius ( +230 )

Mayotte ( +0 )

Mexico ( +52 )

Micronesia ( +691 )

Moldova ( +373 )

Monaco ( +377 )

Mongolia ( +976 )

Montserrat ( +0 )

Morocco ( +212 )

Mozambique ( +258 )

Myanmar ( +0 )

Namibia ( +264 )

Nauru ( +0 )

Nepal ( +977 )

Netherlands ( +31 )

Netherlands Antilles ( +599 )

New Caledonia ( +687 )

New Zealand ( +64 )

Nicaragua ( +505 )

Niger ( +0 )

Nigeria ( +234 )

Niue ( +0 )

Norfolk Island ( +672 )

North Korea ( +850 )

Northern Mariana Islands ( +1 )

Norway ( +47 )

Oman ( +968 )

Pakistan ( +92 )

Palau ( +680 )

Palestinian Territory ( +0 )

Panama ( +507 )

Papua New Guinea ( +224 )

Paraguay ( +595 )

Peru ( +51 )

Philippines ( +63 )

Pitcairn ( +0 )

Poland ( +48 )

Portugal ( +351 )

Puerto Rico ( +1 )

Qatar ( +974 )

Republic of the Congo ( +0 )

Reunion ( +0 )

Romania ( +40 )

Russia ( +7 )

Rwanda ( +250 )

Saint Helena ( +0 )

Saint Kitts and Nevis ( +0 )

Saint Lucia ( +0 )

Saint Pierre and Miquelon ( +0 )

Saint Vincent and the Grenadines ( +0 )

Samoa ( +0 )

San Marino ( +378 )

Sao Tome and Principe ( +0 )

Saudi Arabia ( +966 )

Senegal ( +221 )

Serbia and Montenegro ( +0 )

Seychelles ( +248 )

Sierra Leone ( +0 )

Singapore ( +65 )

Slovakia ( +421 )

Slovenia ( +386 )

Solomon Islands ( +0 )

Somalia ( +0 )

South Africa ( +27 )

South Georgia and the South Sandwich Islands ( +0 )

South Korea ( +82 )

Spain ( +34 )

Sri Lanka ( +94 )

Sudan ( +249 )

Suriname ( +597 )

Svalbard and Jan Mayen ( +0 )

Swaziland ( +268 )

Sweden ( +46 )

Switzerland ( +41 )

Syria ( +963 )

Taiwan ( +886 )

Tajikistan ( +992 )

Tanzania ( +255 )

Thailand ( +66 )

Togo ( +228 )

Tokelau ( +0 )

Tonga ( +676 )

Trinidad and Tobago ( +1 )

Tunisia ( +216 )

Turkey ( +90 )

Turkmenistan ( +0 )

Turks and Caicos Islands ( +1 )

Tuvalu ( +0 )

U.S. Virgin Islands ( +1 )

Uganda ( +256 )

Ukraine ( +380 )

United Arab Emirates ( +971 )

United Kingdom ( +44 )

United States ( +1 )

United States Minor Outlying Islands ( +0 )

Uruguay ( +598 )

Uzbekistan ( +998 )

Vanuatu ( +678 )

Vatican ( +0 )

Venezuela ( +58 )

Vietnam ( +84 )

Wallis and Futuna ( +0 )

Western Sahara ( +0 )

Yemen ( +967 )

Zambia ( +260 )

Zimbabwe ( +263 )
Why book with us?

Discount Deals
Best Deals on Airfares Worldwide

Fast Bookings
Just one call to book any Flight

24/7 Help
Well-trained executives for assistance

100% Secure
Safe payments with robust certification
Popular Routes

New York,JFK
2hr 30m
Los Angeles,LAX
Check Fare
Nonstop
17:00 - 19:30

Seattle,SEA
2hr 20m
Los Angeles,LAX
Check Fare
Nonstop
12:00 - 14:20

San Francisco,SFO
2hr 0m
Los Angeles,LAX
Check Fare
Nonstop
20:00 - 22:00

Las Vegas ,LAS
1hr 45m
Los Angeles,LAX
Check Fare
Nonstop
20:30 - 22:15

San Jose,SJO
1hr 45m
Los Angeles,LAX
Search
Nonstop
11:00 - 22:15
What others say about us

Alex Parkinson
Chief Operating Officer

Wonderful experience!
The concierge expert assigned to me was very knowledgeable and helpful. She simply taken the requirement once and took over the complete burden to compare the best route, price, additional discounts, booking in addition to online check-in. Thanks 911travelshop for providing such a seemless experience!
Cheap Flights Tickets to Los Angeles– The City of Golden Angels
About Los Angeles
Want to explore the city that will inspire your vacation? Then you must visit Los Angeles, the entertainment capital of the world; known around the world as the City of Angels. The beautiful city is home to movie stars, directors, and plenty of other suntanned and well-dressed folks. Apart from Hollywood, Disneyworld, the home of entertainment, there are a lot of reasons that millions of travelers are attracted to spend a holiday in Los Angeles. The city is home to some of the most beautiful beaches and rugged mountains, monuments, museums, amusement parks, and art galleries. Also, famous as the entertainment capital of the world, Los Angeles is the top location for theaters, music, dancing, and live performances. The city also has a mouthwatering culinary scene, with dishes inspired by cultures from around the world.
Some Interesting Facts You Might Not Know About Los Angeles
As we know, Los Angeles is the land of the iconic HOLLYWOOD sign, a homeland for Mickey Mouse, Minions, and Despicable Me. The city is also famed as the land of the nation's television and film industry. But there is more to Los Angeles than its trove of celebrities, beautiful beaches, amazing weather, and horrible traffic. Discover hidden gems and brush up on some interesting facts about the Los Angeles city
The Los Angeles city original name was "El Pueblo de Nuestra Señora Reina de Los Ángeles Sobre el Río Porciúncula." If your Spanish is rusty, that translates to "The town of our lady queen of the angels on the Porciuncula River."
Los Angeles is widely famous for its charming nicknames such as the 'City of Angels,' 'Tinsel Town,' 'City of Flowers & Sunshine,' 'The Big Orange,' 'Angel town,'La La Land,' and the most popular 'L.A.'
The Hollywood sign was originally called "Hollywoodland."
At just 320 feet long, the Angels Flight incline is one of the shortest incorporated railways in the world.
Los Angeles houses more than 225 theaters, 105 exhibition halls, 55 magnificent structures by the world's best architects. The city is likewise home to 16 of the world's most beautiful gardens.
Parking in Los Angeles is a big challenge! In Los Angeles, there are more vehicles than there are people, so it is nearly impossible to find parking in the city.
Another interesting fact about LA is that Los Angeles International Airport or LAX is the biggest and busiest air terminal in California and the 2nd busiest airport in the U.S. behind Atlanta's Hartsfield-Jackson. It is the 4th busiest airplane terminal on the planet.
Los Angeles is also the birthplace of the internet. The first ARPANET transmission was sent from the University of California, Los Angeles to SRI in Menlo Park in 1969.
Another fun fact about LA is that this city is so diverse that it is home to people from more than 140 nations who speak over 200 different languages.
Los Angeles Weather
If you're planning a trip to Los Angeles, the good news is it's difficult to find a bad time of year to do it. Thanks to the city's warm and temperate climate, where you can experience very mild, relatively rainy winters and hot sunny summers. The climate is warmer than the Mediterranean climate.The city has, therefore, delightful weather all year long, also because it is kissed by the sun most of the year. Its dry summers have an average temperature of 85°F in August, and its mild winters see highs of 68°F and lows of 48°F with some occasional rain. On average, August is the hottest month for Los Angeles, whereas its coldest is December.
Top Tourist Attractions to Visit in Los Angeles
While visiting Los Angeles, or the 'city of Golden Angels', there are several world-famous sites and attractions to visit. If you're only in town for a short time, you could spend all your trip wandering Los Angeles great museums, fun theme parks, beautiful beaches, and huge shopping malls. This city is big—and stuffed with so many worthwhile experiences, so deciding on the best places to visit can be a bewildering task. Some of the most popular places to visit in Los Angeles – Disney World, Hollywood, Universal Studios, Santa Monica Beach, Venice Beach, Disneyland Park, downtown area, etc. Tourists will also see a thriving culinary scene here and several fun family attractions.
With so many great places to visit and things to do, it can be hard knowing where to start and what to fit in. We've created a list that should help you decide and get the most of your Los Angeles getaway.
Universal Studios Hollywood
Universal Studios is the ultimate place to experience real film sets where Hollywood movies are made. From studio tours through classic film sets to heart-pounding rides, shows, and attractions – like Despicable Me Minion Mayhem, and The Wizarding World of Harry Potter, Universal Studios Hollywood is a must-visit spot for any first-time LA visitor. And, for the more adventurous set-goers, a visit to the WaterWorld live show is unforgettable.
Santa Monica Pier
Undoubtedly among Santa Monica's most iconic landmark and one of Los Angeles's top attractions, the Santa Monica Pier is a must-see place packed with family-friendly activities, restaurants, and shops. Home to an amusement park—perched right on the pier—called Pacific Park, the pier is recognizable for its solar-paneled Ferris wheel and not-too-scary rollercoaster, and it also boasts an original 1920s carousel hippodrome and the Santa Monica Pier Aquarium. On sunny weekends, the stretch is packed with families, beach bums, and gym bunnies, who work out in public at the original Muscle Beach just south of the pier. Lately, the Santa Monica Pier has played host to a number of concerts, movie screenings, and music events, many of which are free to the public.
Rodeo Drive
Made famous in the film Pretty Woman, Rodeo Drive in Beverly Hills is synonymous with luxury and affluence. Though Beverly Hills Street itself is two miles long, most of the luxury stores are clustered around the three blocks between 200 and 500 North Rodeo Drive.
Popular Stores on Rodeo Drive in Beverly Hills
The following major, high-end stores like Versace, Louis Vuitton, and Tiffany are located on Rodeo Drive and adjacent streets such as Wilshire Boulevard. Travelers may also want to stop by the Beverly Wilshire hotel, the exterior of which was prominently featured in the film Pretty Woman. Some of the top-brand stores with their addresses are mentioned below to help you plan your shopping itinerary:
Armani, 436 North Rodeo Drive
Rolex, 360 North Rodeo Drive
Christian Dior, 309 North Rodeo Drive
Lacoste, 447 North Rodeo Drive
Louis Vuitton, 295 North Rodeo Drive
Bijan, 420 North Rodeo Drive
Gucci, 347 North Rodeo Drive
Loro Piana, 455 North Rodeo Drive
Christofle, 9515 Brighton Way
Etro, 9501 Wilshire Boulevard
Eres, 9566 Dayton Way
Frette Beverly Hills, 445 North Rodeo Drive
Saks Fifth Avenue, 9600 Wilshire Boulevard
Tiffany & Co., 210 North Rodeo Drive
Valentino, 324 North Rodeo Drive
The Grove
The Grove is an open-air shopping mall located next to the Original Farmer's Market. This shopping destination is home to a plethora of stores – from Brandy Melville to Michael Kors and Apple – restaurants, bars, a movie theater, and an American Girl doll café. For a snack and a moment of respite, pop into Ladurée for its famed macarons and freshly made pastries or Nordstrom eBar for a cup of coffee. Along with shopping, the Grove is also known for celebrity sightings and the iconic trolley that ferries visitors from one end of the mall to the other.
The Nethercutt Collection
The Nethercutt Collection is one of the top places to visit in Los Angeles, especially if you are a car fanatic or an enthusiast of older machines or antiques. Here, you'll find a wide range of car collections ranging from the early 1900's Gobron-Brille, to 1923 Hispano-Suiza – H6B, Cabriolet DeVille. The cars are classified by eras such as The Antique Era (1890-1915), The Vintage Era (1916-1924), The Classic Era (1925-1948), and Post-War Era (1945-1970s). You can even plunge into the history of the car as well the name of its previous owners alongside it. The Nethercutt Collection is a one-of-a-kind museum that displays a world-class collection of automated mechanical instruments including phonographs, orchestrions and music boxes, as well as other relics of a bygone era, such as nickelodeons.
Top Free Attractions & Things To Do in Los Angeles
There are, after all, so many free things to do in Los Angeles, you'll probably never know about all of them. Some classic free attractions in the area include the Hollywood Walk of Fame, the Forecourt of the Stars at TCL Chinese Theatre, and the Venice Beach Boardwalk. We've created a list of free attractions, and things to do that should help you decide and get the most from your Los Angeles getaway.
Hit the Beach
Going to the beach is one of the most popular free activities to do in Los Angeles, and with over 70 miles of beach, you can find one to suit your tastes from sandy, crowded beaches to scenic, rocky beaches. Here, you'll find dozens of beaches, all free, but not all have options of free parking. Perennial favorites like Santa Monica can get overcrowded, but if you head from Malibu to the South Bay, you'll find more secluded options.
Visit the Hollywood Walk of Fame in Hollywood
An iconic tribute to the most famous artists, directors, and producers of all time, this star-studded walkway is the pride of Tinsel Town. It is a world-famous attraction featuring more than 2,000 stars honoring luminaries in motion pictures, television, live theatre, radio, and recording since 1960. The famous sidewalk includes both sides of Hollywood Boulevard from Gower to La Brea Avenue and North-South on Vine Street, from Yucca Street to Sunset Boulevard. This place is surrounded by shops with souvenirs such as pictures, posters, postcards, statues, keychains, mini-Walk of Fame ornaments, T-shirts, hats, and more. Plus, there are stores and booths selling tickets for Hollywood tours.
See the Forecourt of the Stars at TCL Chinese Theatre
Take a tour to the Forecourt of the Stars at TCL Chinese Theatre (originally Grauman's Chinese Theater) on Hollywood Boulevard to measure your hands and feet against the footprints and handprints of Hollywood legends. Norma Talmadge, Douglas Fairbanks, and Mary Pickford were the first to provide their footprints on the theater's opening day back in 1927.
See the Landmark Hollywood Sign
Take a look at the world-famous Hollywood sign from the viewing area at the Griffith Observatory. Another good viewing point is at Griffith Park. If you're looking for the easiest way to catch a photo opportunity, Hollywood & Highland shopping and entertainment complex next to ?Grauman's Chinese Theatre is the best place to do that.
Walk the Venice Beach Boardwalk
A small distance from Santa Monica, stroll down the Venice Beach Boardwalk that provides one of the most eclectic atmospheres and people-watching spots in all of Los Angeles. While walking the Venice Beach Boardwalk, check out the street performers, the body-builders at the open-air gym, and the exciting characters wandering the strand during the summer and on weekends. Parking in the area isn't free and ranges from $3 to $15, depending on the lot and the time of year.
Explore the El Pueblo de Los Angeles Historical Monument
Take an hour-long easy walk tour and explore the Mexican marketplace at El Pueblo de Los Angeles Historical Monument at Olvera Street. A free walking tour is offered Wednesday through Saturday from 10 A.M. to noon, while if you want to explore the place of your own, a self-guided tour brochure describing the historic buildings is available at the El Pueblo Visitors Center.
Los Angeles Cuisine– Try LA's Most Iconic Restaurant Dishes
Los Angeles is one of the greatest places to eat in America, not only for its endless varieties of cuisines but also for its incredible produce and talented chefs and restaurateurs. The city of Angels boasts mouthwatering dishes from around the world, from celebrity chefs to burger joints, here is a list of food places in Los Angeles and its unique recipes you can try – Xiao long bao (aka soup dumplings) at Din Tai Fung, Sweet potato taco at Guerrilla Tacos, Bone marrow pie at Chi Spacca, Jade noodles at Sapp Coffee Shop, Cha Gio at Golden Deli, French Dip at Philippe The Original, and House Lobster at Newport Seafood Restaurant.
Taste of Tinseltown– Top Los Angeles Restaurants Perfect for Vegans & Vegetarians
Herbivorous Angelenos have a bevy of choices when it comes to dining out in Los Angeles. The city's plant-based menu is as diverse as it is delicious, with a mix of establishments ranging from classic hippie-leaning joints to chef-driven restaurants and just about everything in between. And from the past few years, Los Angeles seems to be bursting with a new wave of plant-based restaurants. Some of the top vegan restaurants across Los Angeles with their addresses are mentioned below to provide you the very best of veggie dining experience:
Little Pine at 2870 Rowena
The Good Karma Cafe at 3651 Vermont Ave (St. Mark's Lutheran Church)
Bodhi Bowl LA at 645 W 9th St Ste 107
Ramen Hood at 317 S Broadway (Grand Central Market)
Shojin - DTLA at 333 S Alameda St Unit 310 (Little Tokyo Shopping Center)
The Grain Cafe at 4222 W Pico Blvd (Mid-City)
Explore the Best Shopping Places at Los Angeles
There's no shortage of exciting things to do in Tinseltown— whether you're a native, a tourist, or somewhere in between. This place is a mecca for all this fashion and trendy. And you've probably heard that shopping here is pretty good. Yes, you heard it right! From Burberry to Jimmy Choo to Louis Vuitton, you will find all the opulent fashion brands in the city.
One cannot separate fashion from Los Angeles, especially when this place is home to Hollywood celebrities and fashionistas. Any new style spreads like wildfire to the rest of the country and the world. Whether you're in search of affordable fashion in a vintage mecca or brushing shoulders with celebrities in luxury stores, there's a little something for everyone in Los Angeles. Add Los Angeles shopping to your to-do list, and it becomes the ultimate hub of haute couture. Some of the most popular shopping places where you can go on a shopping spree guilt-free:
Westfield Century City at 10250 Santa Monica Blvd
The Grove at 189 The Grove Dr
Third Street Promenade at 1351 3rd Street Promenade, Santa Monica, CA 90401
Hollywood & Highland at 6801 Hollywood Boulevard 170, Los Angeles, CA 90028
The Bloc at 700 W 7th St
The Americana at Brand at 889 Americana Way, Glendale, CA 91210
Glendale Galleria at 100 W Broadway, Glendale
Westfield Fashion Square at 14006 Riverside Dr, Sherman Oaks
Palisades Village at 15225 Palisades Village Ln, Pacific Palisades, CA 90272
Los Angeles International Airport
Los Angeles International Airport, better known as LAX, is the main international airport serving Los Angeles - the land of fame, fortune, and avocado toast. The airport is located in Westchester alongside LA's beach community, about 18 miles (30 kilometers) southwest of Downtown Los Angeles. LAX is a gigantic travel hub and one of the world's largest international airports. As one of the busiest airports in the world, LAX has nine passenger terminals and offers 737 daily non-stop flights to 100 domestic cities, and 1,386 weekly non-stop flights to 88 cities in 44 countries. At the airport, tourists will find chain restaurants, cocktail lounges, ethnic cuisine, duty-free shops, and plenty of retail shopping. When flying with pets, the airport even has a small pet park outfitted with a dog house and plastic bags for your convenience.
Los Angeles Airport Transportation
Los Angeles International Airport (LAX) is located 18 miles (30 kilometers) from downtown LA.
LAX FlyAway is a shuttle bus service that provides non-stop transportation between airports and designated bus stops in 5 Los Angeles neighborhoods.
You can also take a door-to-door, convenient, and affordable car service of your choice.
Many hotels near the LAX airport provide courtesy shuttles to transport guests from the airport to the hotel. Some top-tier hotels also offer complimentary outgoing limousine service to destinations within two or three miles.
Where to Book Cheap flights to Los Angeles
Los Angeles is the second-largest city in the United States, and it is also a globally important center of culture, business, and tourism. As the center of the biggest film industry in the world,' La La Land' Los Angeles is a beguiling blend of rolling hills, beautiful pacific beaches, and glamor. If you're planning a trip to Los Angeles, log onto 911travelshop— a travel search engine that lets you find and book the most affordable Los Angeles flights. The website offers a user-friendly platform for you to easily navigate and select flights to Los Angeles that suit your budget and preferences.
How to Find the Cheapest Flights to Los Angeles?
Flight tickets are available on every website, but not all provide you tips and tricks to book cheap flight tickets to Los Angeles. Our team of travel experts has come up with ways that will help you save even more on your next flight to Tinseltown. Below we've mentioned some easy tips to help enjoy extra savings on Los Angeles flight tickets.
Know where to search for cheap Los Angeles flights. Many of the cheapest airlines you won't find on large comparison sites. Search for flight tickets through 911travelshop offers the broadest range of airlines and some nice tools for finding the best deals.
Plan a trip to Los Angeles during the low season. January is the best month to fly to Los Angeles as incoming flights are cheaper due to low demand.
Fly to Los Angeles on weekdays. Tuesdays, Wednesdays, and Saturdays are the best days to fly to Los Angeles when the fare is cheapest.
Book your flight ticket at least three weeks prior to departure.
Consider a nearby airport linking the city. Many times, flights to nearby less popular airports tend to be much cheaper than the actual destination.
Keep your travel dates flexible. This will aid you in getting cheaper flight tickets to Los Angeles.
Subscribe to our newsletters & we share the latest flight deals with our members.
FAQs About Los Angeles Flights
Q. Which airlines fly to Los Angeles?
Direct and indirect flights to Los Angeles are available from several different carriers. Currently, Los Angeles is served by the following airlines including:
American Airlines
United Airlines
Delta Airlines
Southwest Airlines
Alaska Airlines
British Airways
Virgin Atlantic
Norwegian
Air New Zealand
Q. What is the cheapest day of the week to fly to Los Angeles?
Currently, Tuesday is the most economical day to take a flight to Los Angeles. Sunday is likely to be the most costly.
Q. What is the cheapest month to fly to Los Angeles?
Flights to Los Angeles tend to be more expensive during the peak summer season from June to August. The cheapest months to fly to La La Land' Los Angeles include January, February, and September when you can get the best flights at the lowest fare.
Q. What is the name of Los Angeles airport?
Los Angeles International Airport is the main international airport serving Los Angeles, United States, California, and its surrounding metropolitan area. Los Angeles Airport, also commonly referred to like Los Angeles, Los Angeles Intl. The airport code is LAX.
Q. How long is the flight to Los Angeles?
Many airlines serve the city, so with several direct flights, you can experience a quick and easy trip to Los Angeles. A flight from Dallas takes around three hours to Los Angeles or just spend over five hours flying nonstop from New York. A nonstop flight from Seattle is a little over two hours, and flying to Los Angeles from Paris takes around twelve hours.
Q. How far is Los Angeles airport from central Los Angeles?
Los Angeles International Airport is 9.3 miles (15 kilometers) from the center of Los Angeles.
Q. Does Los Angeles Airport provide free Wi-Fi?
Yes, Los Angeles International Airport offers unlimited free Wi-Fi to help you stay connected while traveling through our airport. However, free Wi-Fi is provided in 45-minute periods and interrupted by advertisements. If you need a higher-speed connection for more advanced tasks, you can also purchase a premium Wi-Fi service.
Q. What is the benefit of an online check-in while flying to Los Angeles?
Taking an online check-in confirms your travel to Los Angeles and saves your time at the airport check-in counter.
Popular Destinations
Last updated at 23:52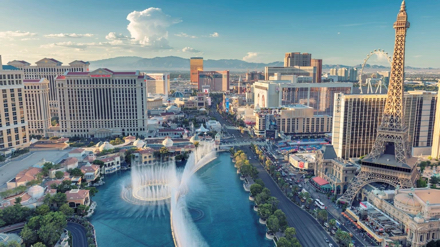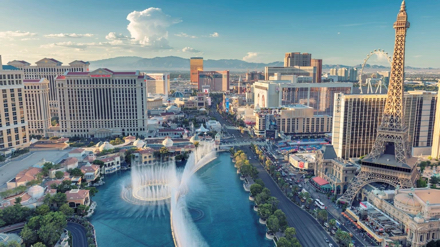 A property of every kind
in New York