Looking for best airfares and convenient bookings?
It's FREE until 3 bookings.

+ 1
No result found

Afghanistan ( +0 )

Albania ( +355 )

Algeria ( +213 )

American Samoa ( +0 )

Andorra ( +376 )

Angola ( +244 )

Anguilla ( +1264 )

Antarctica ( +0 )

Antigua and Barbuda ( +1268 )

Argentina ( +54 )

Armenia ( +374 )

Aruba ( +297 )

Australia ( +61 )

Austria ( +43 )

Azerbaijan ( +994 )

Bahamas ( +1242 )

Bahrain ( +973 )

Bangladesh ( +880 )

Barbados ( +1246 )

Belarus ( +375 )

Belgium ( +32 )

Belize ( +501 )

Benin ( +229 )

Bermuda ( +1441 )

Bhutan ( +975 )

Bolivia ( +591 )

Bosnia and Herzegovina ( +387 )

Botswana ( +267 )

Bouvet Island ( +0 )

Brazil ( +55 )

British Indian Ocean Territory ( +0 )

British Virgin Islands ( +0 )

Brunei ( +673 )

Bulgaria ( +359 )

Burkina Faso ( +226 )

Burundi ( +0 )

Cambodia ( +855 )

Cameroon ( +237 )

Canada ( +1 )

Cape Verde ( +238 )

Cayman Islands ( +1345 )

Central African Republic ( +0 )

Chad ( +235 )

Chile ( +56 )

China ( +86 )

Christmas Island ( +0 )

Cocos Islands ( +0 )

Colombia ( +57 )

Comoros ( +0 )

Cook Islands ( +682 )

Costa Rica ( +506 )

Croatia ( +385 )

Cuba ( +53 )

Cyprus ( +357 )

Czech Republic ( +420 )

Democratic Republic of the Congo ( +0 )

Denmark ( +45 )

Djibouti ( +253 )

Dominica ( +0 )

Dominican Republic ( +1 )

East Timor ( +0 )

Ecuador ( +593 )

Egypt ( +20 )

El Salvador ( +503 )

Equatorial Guinea ( +240 )

Eritrea ( +291 )

Estonia ( +372 )

Ethiopia ( +251 )

Falkland Islands ( +0 )

Faroe Islands ( +0 )

Fiji ( +679 )

Finland ( +358 )

France ( +33 )

French Guiana ( +689 )

French Polynesia ( +689 )

French Southern Territories ( +0 )

Gabon ( +241 )

Gambia ( +220 )

Georgia ( +995 )

Germany ( +49 )

Ghana ( +233 )

Gibraltar ( +350 )

Greece ( +30 )

Greenland ( +299 )

Grenada ( +1 )

Guadeloupe ( +0 )

Guam ( +1 )

Guatemala ( +502 )

Guinea ( +0 )

Guinea-Bissau ( +0 )

Guyana ( +0 )

Haiti ( +0 )

Heard Island and McDonald Islands ( +0 )

Honduras ( +504 )

Hong Kong ( +852 )

Hungary ( +36 )

Iceland ( +354 )

India ( +91 )

Indonesia ( +62 )

Iran ( +98 )

Iraq ( +964 )

Ireland ( +353 )

Israel ( +972 )

Italy ( +39 )

Ivory Coast ( +0 )

Jamaica ( +1 )

Japan ( +81 )

Jordan ( +962 )

Kazakhstan ( +7 )

Kenya ( +254 )

Kiribati ( +0 )

Kuwait ( +965 )

Kyrgyzstan ( +0 )

Laos ( +856 )

Latvia ( +371 )

Lebanon ( +961 )

Lesotho ( +0 )

Liberia ( +0 )

Libya ( +218 )

Liechtenstein ( +423 )

Lithuania ( +370 )

Luxembourg ( +352 )

Macao ( +853 )

Macedonia ( +389 )

Madagascar ( +261 )

Malawi ( +265 )

Malaysia ( +60 )

Maldives ( +960 )

Mali ( +223 )

Malta ( +356 )

Marshall Islands ( +0 )

Martinique ( +222 )

Mauritania ( +0 )

Mauritius ( +230 )

Mayotte ( +0 )

Mexico ( +52 )

Micronesia ( +691 )

Moldova ( +373 )

Monaco ( +377 )

Mongolia ( +976 )

Montserrat ( +0 )

Morocco ( +212 )

Mozambique ( +258 )

Myanmar ( +0 )

Namibia ( +264 )

Nauru ( +0 )

Nepal ( +977 )

Netherlands ( +31 )

Netherlands Antilles ( +599 )

New Caledonia ( +687 )

New Zealand ( +64 )

Nicaragua ( +505 )

Niger ( +0 )

Nigeria ( +234 )

Niue ( +0 )

Norfolk Island ( +672 )

North Korea ( +850 )

Northern Mariana Islands ( +1 )

Norway ( +47 )

Oman ( +968 )

Pakistan ( +92 )

Palau ( +680 )

Palestinian Territory ( +0 )

Panama ( +507 )

Papua New Guinea ( +224 )

Paraguay ( +595 )

Peru ( +51 )

Philippines ( +63 )

Pitcairn ( +0 )

Poland ( +48 )

Portugal ( +351 )

Puerto Rico ( +1 )

Qatar ( +974 )

Republic of the Congo ( +0 )

Reunion ( +0 )

Romania ( +40 )

Russia ( +7 )

Rwanda ( +250 )

Saint Helena ( +0 )

Saint Kitts and Nevis ( +0 )

Saint Lucia ( +0 )

Saint Pierre and Miquelon ( +0 )

Saint Vincent and the Grenadines ( +0 )

Samoa ( +0 )

San Marino ( +378 )

Sao Tome and Principe ( +0 )

Saudi Arabia ( +966 )

Senegal ( +221 )

Serbia and Montenegro ( +0 )

Seychelles ( +248 )

Sierra Leone ( +0 )

Singapore ( +65 )

Slovakia ( +421 )

Slovenia ( +386 )

Solomon Islands ( +0 )

Somalia ( +0 )

South Africa ( +27 )

South Georgia and the South Sandwich Islands ( +0 )

South Korea ( +82 )

Spain ( +34 )

Sri Lanka ( +94 )

Sudan ( +249 )

Suriname ( +597 )

Svalbard and Jan Mayen ( +0 )

Swaziland ( +268 )

Sweden ( +46 )

Switzerland ( +41 )

Syria ( +963 )

Taiwan ( +886 )

Tajikistan ( +992 )

Tanzania ( +255 )

Thailand ( +66 )

Togo ( +228 )

Tokelau ( +0 )

Tonga ( +676 )

Trinidad and Tobago ( +1 )

Tunisia ( +216 )

Turkey ( +90 )

Turkmenistan ( +0 )

Turks and Caicos Islands ( +1 )

Tuvalu ( +0 )

U.S. Virgin Islands ( +1 )

Uganda ( +256 )

Ukraine ( +380 )

United Arab Emirates ( +971 )

United Kingdom ( +44 )

United States ( +1 )

United States Minor Outlying Islands ( +0 )

Uruguay ( +598 )

Uzbekistan ( +998 )

Vanuatu ( +678 )

Vatican ( +0 )

Venezuela ( +58 )

Vietnam ( +84 )

Wallis and Futuna ( +0 )

Western Sahara ( +0 )

Yemen ( +967 )

Zambia ( +260 )

Zimbabwe ( +263 )
Why book with us?

Discount Deals
Best Deals on Airfares Worldwide

Fast Bookings
Just one call to book any Flight

24/7 Help
Well-trained executives for assistance

100% Secure
Safe payments with robust certification
Popular Routes

Detroit,DTW
1hr 30m
Las Vegas ,LAS
Check Fare
Nonstop
20:00 - 21:30

Los Angeles,LAX
2hr 0m
Las Vegas ,LAS
Check Fare
Nonstop
10:30 - 12:30

New York,NYC
8hr 5m
Las Vegas ,LAS
Check Fare
Nonstop
13:00 - 21:05

San Diego,SAN
3hr 0m
Las Vegas ,LAS
Check Fare
Nonstop
08:00 - 11:00

London,LHR
3hr 0m
Las Vegas ,LAS
Search
Nonstop
12:00 - 23:55
What others say about us

Alex Parkinson
Chief Operating Officer

Wonderful experience!
The concierge expert assigned to me was very knowledgeable and helpful. She simply taken the requirement once and took over the complete burden to compare the best route, price, additional discounts, booking in addition to online check-in. Thanks 911travelshop for providing such a seemless experience!
Flights to Las Vegas (LAS)— The Entertainment Capital of the World
Las Vegas— the gambling 'Sin City.'
Are you looking for Las Vegas tickets? Then probably you're looking for the cheapest time to travel. Las Vegas, often referred to as the Entertainment Capital of the World, and the gambling' Sin City,' is one of the most expensive cities of the world with a fine selection of mega casino-hotels dotting the skyline. Las Vegas vacation will likely revolve around the iconic neon lights and famous sights along the world-famous Las Vegas Strip, which has some of the finest hotels and resorts in the world. Fifteen of the world's top twenty-five hotels are located in Las Vegas only, and those are furnished with opulence, luxury, and the best of amenities. Las Vegas' most famous hotels include MGM Grand, The Bellagio, The Palazzo, The Mirage, The Venetian, Caesars Palace, Gansevoort, and Luxor.
Popularly known for fun and excitement, Las Vegas City serves up all kinds of possibilities for tourists. Before you land, one of the first things you'll likely notice is that it is a paradise in the middle of the desert. Apart from its creatively designed casinos, there are hundreds of tourist attractions that make this enigmatic city a perfect destination for holidays. In Las Vegas, tourists can ride a gondola at The Venetian, discover the treasures of Old Las Vegas Mormon State historical Park, see views atop the Eiffel Tower in Paris, come across some ancient signs in the Neon Museum, or enjoy the renowned fountain show at the Bellagio.
Tourists exploring the beautiful city of Nevada can also check out the Fremont Street Experience's light show, enjoy a history lesson at the Mob Museum or simply enjoy a genuine Vegas pool party. And if you have the time, you can plan a quick road trip to the Hoover Dam, or try different restaurants in a single night with a Las Vegas Foodie Tour.
Some Crazy Las Vegas Facts to Surprise You
Sin City, The Lady, Lost Wages, Disneyland for Adults – these are only a few nicknames that Las Vegas is known by. Sin City can dazzle, impress, and surprise you at the same time. Here are some crazy Las Vegas facts you may not know. From the truth about where the Las Vegas Strip really is (hint: It's not Las Vegas) to the buffet shrimp, these crazy Las Vegas facts are sure to put a smile on your face.
There are 149,213 Las Vegas hotel rooms, and it would take around 288 years for one person to spend one night in every hotel room in Las Vegas.
Some of the best world's most luxurious and biggest hotels are located in Las Vegas. In fact, 15 of the world's top 25 hotels are in Las Vegas City.
Contrary to popular belief, prostitution is in fact prohibited in Sin City and the rest of Clark County.
The Las Vegas Strip is actually not in the city of Las Vegas. Most of the 4.2-mile Las Vegas Strip is in the neighboring town of Paradise.
The shrimp consumption in Las Vegas is over 60,000 pounds per day, higher than the rest of the United States combined.
Even though Las Vegas seems like a larger-than-life city, it's located in the Mojave Desert, the smallest desert in America.
The Las Vegas Strip is the brightest place on Earth when looked at from space.
The iconic Las Vegas Strip Luxor Light Beam is arguably the brightest light beam on Earth, which is visible from as far as 100 miles away.
Las Vegas has a "black book," a list of people who are blacklisted from setting foot in any of the Las Vegas casinos.
"Dig This Las Vegas" is a heavy-duty construction equipment playground in Las Vegas where you can drive bulldozers for fun.
In terms of number of rooms, the MGM Grand Hotel & Casino is the largest hotel in the country and the 2nd largest in the world.
The Bellagio hotel at Las Vegas has 3,933 rooms, which is more than the number of residents in Bellagio, Italy.
Best Time to Visit Las Vegas
While Las Vegas (LA) is a major hotspot for tourists and a popular destination year-round, the best time to visit Vegas is during spring and fall seasons when the temperature is more pleasant. However, Las Vegas has sunny and dry weather that lasts almost all year round, so the best weather to plan a trip to Las Vegas is during its less hot months of October through March, which is cold, dry, and the least humid. The average temperature during these months ranges from 46°F to 73°F. Not only this, but Las Vegas offers something different each night of the week. Vegas Festival of Beer, as well as Vegas Uncork'd, the area's biggest food and drink festival, are both hosted during spring. During summers you can enjoy the Las Vegas pool parties and see the best films at the Las Vegas Film Festival. If you're planning to fly to Las Vegas, be sure to book your flight at least 60 days before your departure date to get the cheapest fare.
Actually Cool Things to Do in Las Vegas
Also called the gambling' Sin City,' the city of Las Vegas is mainly known for its seven-star hotels, shows, and casinos. BlackJack, Poker, and Jackpot are the prime attractions in Vegas, with the city boasting of some of the best casinos in the world. Other famous games among gamblers include Roulette, Baccarat and Craps.
If you're not much interested in gambling, then at any given time of the year, there are countless shows going on with celebrities like Reba McEntire, Celine Dion, Kix Brooks, Elton John, and Ronnie Dunn performing. The Cirque Du Soleil is also a famous trapeze and circus group. Many other popular shows such as Kà at the MGM Grand, "O" by Cirque du Soleil at Bellagio, Zumanity (for adults 18 and over) at New York-New York, Mystère at Treasure Island, and Criss Angel Believe at the Luxor take place at regular intervals.
There are many places to visit in Las Vegas both beautiful and fun, and will surely offer you something, no matter where you come from or what you like. Some of the must-see attractions in Las Vegas are listed below.
The Las Vegas Strip
The Strip is the answer if you don't know where to go in Las Vegas. Approximately 4.5-mile stretch of Las Vegas Boulevard is one of the most famous streets in the world and is home to luxury resorts, jubilant casinos, grand restaurants, and theme places. The ever-buzzing boulevard attracts millions of visitors each year, making it an ideal place to do exciting things in Vegas. Here you'll find Las Vegas' most iconic landmarks, including the famous Welcome to Fabulous Las Vegas, Nevada' sign, the Bellagio's Musical Fountain show, the Mirage Volcano, LINQ Promenade, Wildlife Habitat at Flamingo Las Vegas, and The Venetian's Grand Canal.
Apart from dazzling hotels and casinos, luxury shops can also be found all along the Strip. At places like the Venetian's Grand Canal Shoppes and Caesars Forum Shops combine high-end retailers with elaborate interior designs and entertainment. The Strip's newest mall, Crystals, offers 56 exclusive boutiques, such as Gucci, Harry Winston, Tiffany, Versace, Prada, Hermes, Louis Vuitton, and Dior, without any pretense.
Fremont Street Experience
Fremont Street is the second-most-popular street in Las Vegas Valley, besides the Las Vegas Strip. Also famous as "Glitter Gulch" for its fabulous neon, Fremont Street is home to some of the older hotels and casinos in Sin City. This place is also famous for the giant canopy that stretches approximately 1,500 feet over the boulevard. A group of street performers, vendors, artists and musicians line the sidewalks of Fremont Street every night, adding an eccentricity to the city you won't find on the Strip.
The High Roller at The LINQ
There is no better way to enjoy the landscape glimmer of Las Vegas than from the top of the High Roller. Since its opening in March 2014, the High Roller at The LINQ has become one of the top attractions in the Las Vegas skyline. Engineered by the same company that constructed the Singapore Flyer, the observation wheel stands over 550 feet tall (around 168 meters), providing visitors an unencumbered, bird' s-eye view of the city. Whether Las Vegas is your favorite vacation spot or you are visiting the Sin City for the first time, the High Roller ride above the Las Vegas skyline won't leave you disappointed.
Shark Reef
Located inside the Mandalay Bay, the Shark Reef aquarium is home to more than 2,000 animals, including giant rays, endangered green sea turtles, piranha, Komodo dragon, eels, stingrays and 15 species of sharks. Shark Reef is a total sensory experience and is a great option if you're looking for things to do in Las Vegas with kids. For an additional fee, guests at the Mandalay Bay can get an intimate look at the aquarium through its program Dive with Sharks.
Bellagio Casino & Fountain Show
The Bellagio Resort in Las Vegas is a high-end, spectacular resort with several gems hidden away in its corridors. Design inspired by the Italian town Bellagio on Lake Como, the Bellagio has achieved legendary status for its 7-acre lake and dazzling illuminated fountains. Bellagio lobby ceiling is decorated with Dale Chihuly's splendid Fiori di Como installation; a structure made of hand-blown colored glass, containing over 2,000 flowers. The Bellagio has a wide variety of attractions, including the Bellagio Gallery of Fine Arts, Botanical Gardens, as well as the Conservatory. This place also houses some of the finest restaurants in Las Vegas as well as a spa and salon, apart from the legendary Bellagio casino, which is one of the biggest Las Vegas tourist attractions.
In a city with many famous sights, the musical fountain show in front of the Bellagio is the most notable. With over a thousand fountains choreographed to music, this spot usually proves a delight to both first-time and veteran Las Vegas travelers. The Fountain show takes place every half hour from 3 pm to 8 pm Monday through Friday and every 15 minutes from 8 pm to midnight. This musical fountain show at the Bellagio Casino is a must if you are looking for free things to see in Las Vegas.
Neon Museum
The Mob Museum tells the story of Sin City and its relationship with organized crime, whereas The Neon Museum tells the history of Las Vegas through neon. As we already know, Las Vegas has always been the home to some of the brightest neon signs on the side of the streets. The museum basically is an attempt to store, preserve, study, and exhibit iconic Las Vegas signs for historical, educational, arts, and cultural enrichment. The collection of hotel and business signs tells the history and evolution of Las Vegas City from its early days as a stopping point on the way to California to its status as a top tourist destination.
MGM Grand & CSI
CSI: The Experience is one of the best Las Vegas attractions for adults that MGM Grand offers to its guests. It is an interactive, hands-on, crime-solving experience that gives you the opportunity to take on the role of a real crime scene investigator. Test out your detective skills by investigating the crime scene, analyzing your evidence, and see if you have what it takes to solve the case.
Las Vegas Motor Speedway
Fans of fast cars will want to head over to the Las Vegas Motor Speedway— the world's most diverse motorsport facility. It is one of the few motor speedways in the country that allows guests to rent an exotic supercar, including a Lamborghini, Ferrari, Porsche, Aston Martin, Audi R8, and the Nissan GT-R. The Las Vegas Motor Speedway is also the home to NASCAR races, NHRA drag races, as well as a number of other racing events throughout the year. If you're a true racing enthusiast, the motor speedway is a must-visit place for you.
Dig This Las Vegas
'Dig This Las Vegas' is the ultimate Las Vegas experience for everyone ages three and up! This expansive dirt lot allows kids, teenagers, and adults to operate heavy-duty construction equipment such as a bulldozer, excavator, or skid steer track loader in a safe and controlled environment. Visitors can work the machine alone or in groups, and experiences range from stacking tires to digging holes or even destroying a vehicle.
Las Vegas Budget-Friendly Fun— Things to do in Las Vegas for Free
Free entertainment is easy to find in the Sin City, especially if you count the roaming street performers. However, the city has plenty of other budget-friendly things to do. These include the water fountains at Bellagio, the Sirens of TI at Treasure Island, the volcano at The Mirage, Festival Fountain at Caesars Palace, and the Fall of Atlantis. Some of the top things to do in Las Vegas for free are:
Take a selfie at the "Welcome to Las Vegas" sign, which is one of the city's most recognizable landmarks, and visiting it is totally free.
Sample wine at Esther's Kitchen, one of the best restaurants in Las Vegas
See Flamingo Wildlife Habitat at the Flamingo Las Vegas
Take a short trip to Bellagio Conservatory and Botanical Gardens
Watch free circus at the Circus, Circus Hotel & Casino
Take a hike at Red Rock Canyon
Watch the dancing waters of the spectacular Fountains of Bellagio.
Best Restaurants in Las Vegas- Where to go on and off the Strip
Add the best restaurants in Las Vegas to the top of your Sin City to-do list. Here's the ultimate list of the top restaurants in Las Vegas where you can indulge your taste buds and surrender to the captivating culinary delights.
FLIGHTS - Airline-themed restaurant where food is served in threes
Located in Planet Hollywood's Miracle Mile Shops, FLIGHTS is the hottest addition to the Las Vegas dining scene. The restaurant follows an aviation theme in which guests receive a boarding pass at the check-in desk and dine underneath a small plane that hangs from the ceiling. Not only this, but to make dining as much fun as it is delicious, your favorite food and drinks are creatively served in trios for a unique experience. Take your taste buds to new heights at Flights!
Sparrow + Wolf
Sparrow + Wolf's cuisine features American cookery inspired by the culinary diverse neighborhoods of Chef Brian Howard's travels, training, and midwestern roots. The changing menu at Sparrow + Wolf features a variety of dishes inspired by the seasons. Shareable plates might include dishes like a tangy beet and apple tartare, divine wood-roasted Maitake mushroom dish with warm Turkish hummus, wood-roasted bone marrow and Campfire Duck with foie gras, Chinatown Clams Casino, wood ear mushrooms, salted cucumber and salted plum. Guests can also try Sparrow + Wolf vegan dessert like a grilled pineapple with Thai Chili mango sorbet.
Zuma - Best Place to Dine Sushi and Other Japanese food
Zuma at The Cosmopolitan is a contemporary Japanese restaurant from creator and co-founder Rainer Becker. Inspired by the informal izakaya dining style, the international restaurant features modern Japanese cuisine and world-class drinks, all served in a sophisticated yet comfortable environment. The menu showcases a variety of dishes from its three kitchens: the main kitchen, the robata grill, and the sushi counter. Sushi and sashimi include rolls and specialties, while Zuma's signature dishes include things like rib eye steak, roasted lobster with shiso ponzu butter, a rice hot pot with wild mushrooms, black truffle and Japanese vegetables. The robata grill offers fish, king crab, prawns, spicy lamb, and Wagyu beef, among other choices.
Bazaar Meat by José Andrés
Named one of the "Top 5 steakhouses in America" by Fox News, Bazaar Meat is the James Beard award-winning chef's wild and wonderful celebration of the carnivorous, in all its forms. The ingredients are the stars here, but the chefs still have fun showing them off. That means foie gras is offered wrapped in cotton candy and dishes like the classic steak tartare are mixed tableside with plenty of panache.
Twist by Pierre Gagnaire
The Twist by Pierre Gagnaire is breathtaking. It will engage all of your senses, combining spectacular Las Vegas Strip views from the 23rd floor of the Mandarin Oriental, an open kitchen concept, True Waldorf Service, and a French cuisine by this three-star Michelin chef.
Las Vegas McCarran International Airport (LAS)
Flying into McCarran International Airport (LAS), and you'll land right in the thick of things. McCarran is located just three miles south of the city's storied stretch of downtown known as "the Strip." As McCarran International is one of the largest and busiest airports in the world, it offers fast and easy access to many of the city's most famous hotels. Taxis and buses serve the airport terminals while car rental is also available for the passengers. McCarran International Airport offers a taste of what you'll find in downtown Las Vegas itself, with a wide selection of quality restaurants, shopping, and even several slot machines stationed throughout the airport terminals.
So if you're planning a trip to Sin City, McCarran is the best airport to fly into for cheap flights to Las Vegas. Search for Las Vegas flights using the airport code LAS into the arrival city search box, and this will narrow your flight search for Las Vegas. All domestic and international flights to Vegas arrive and depart from this airport only, putting visitors right in the heart of the city from the moment they touch down.
Where to Book Cheap Flights to Las Vegas
Also known as The Entertainment Capital of the World and the city of lights, Las Vegas is a popular vacation spot among tourists for its 7-star resorts, 24/7 attractions, and glitzy casinos. The city is surrounded by dry mountains and an arid desert bed; it is a mirage filled with luxury, excitement, entertainment, and a whole lot of fun! If you're looking for cheap flights to Las Vegas, Nevada, log onto 911travelshop— a travel search engine that lets you find and book the most affordable Las Vegas flights. The website offers a user-friendly platform for you to easily navigate and select flights to Las Vegas that suit your budget and preferences.
Tips for Finding Cheap Flights to Las Vegas
Flight tickets are available on every website, but not all provide you tips and tricks to book cheap flight tickets to Las Vegas. Our team of travel experts has come up with ways that will help you save even more on your Las Vegas, Nevada flight tickets. Below we've mentioned some easy tips to help enjoy extra savings on flights to Las Vegas.
Plan a trip to Las Vegas during the low season. March to May and September to November are the best months, as flight tickets to Las Vegas are cheapest.
Fly to Las Vegas on weekdays. Tuesdays, Wednesdays, and Saturdays are the best days to fly to Las Vegas when the fare is cheapest.
Book your flight ticket at least six weeks in advance.
Consider a nearby airport linking the city. Many times, flights to nearby less popular airports tend to be much cheaper than the actual destination.
Keep your travel dates flexible. This will aid you in getting cheaper flight tickets to Las Vegas
Subscribe to our newsletters & we share the latest flight deals with our members.
FAQs About Las Vegas Flights
Q. Which airlines fly to Las Vegas. Nevada?
Las Vegas is one of the most popular city break destinations and vacation spots in the world. As a result, a wide selection of direct and indirect flights to Las Vegas is available from several different airlines. These include:
Delta flights
United flights
American Airlines
Frontier Airlines
Spirit Airlines
JetBlue Airlines
Southwest Airlines
British Airways flights
Virgin Atlantic flights
Air Canada flights
Lufthansa flights

Alaska Airlines
Q. How many airports are there in Las Vegas, Nevada?
There are three airports in Las Vegas. Las Vegas Mccarran is the main airport for public and military use in the Las Vegas Valley. The other two executive airports are Las Vegas Henderson Sky Harbor and Las Vegas North Air Terminal.
Q. Which airlines fly direct to Las Vegas Mccarran International Airport?
In general, from the U.S., Delta Airlines, United Airlines, and Southwest Airlines fly the most to Las Vegas. Delta, KLM, Volaris, Allegiant Air, Eurowings, Sun Country Airlines, VivaAerobus, and Interjet all fly direct to Las Vegas McCarran International Airport.
Q. What is the cheapest time to go to Las Vegas?
The cheapest months to fly to Vegas are January, February, April, and September. However, there are other times when flights are also lower than usual, such as August and October. Tourists who plan to visit Las Vegas during these months can save more on their flight tickets.
Q. How far is Las Vegas McCarran airport from Las Vegas?
Las Vegas McCarran International Airport is approximately 9 miles (14.48 kilometers) from the center of Las Vegas.
Q. What is the cheapest day of the week to fly to Las Vegas?
For the lowest flight tickets, fly to Las Vegas either mid-week or on Saturday. At the moment, Fridays or Sundays are the most expensive days, so we suggest not to fly on these two days of the week.
Q. Is there any public transport available at McCarran International Airport?
There is a wide range of transportation options from McCarran International Airport, including rental cars, taxicabs, limos, ride-shares, and buses. If you prefer using public transport, various RTC buses are available from both terminals.
Q. Are there any airport lounges at McCarran International Airport?
Passengers who wish to access a relaxed space on arrival can do so at one of the three airport lounges. While the United Club and the Centurion lounges are reserved for passengers with lounge memberships, The Club at LAS is an airport VIP lounge that is located in both terminals can be accessed with a pre-paid pass or by paying at the door.
Q. What are the things to do in Vegas during the day?
Whether you're visiting Las Vegas with family or need a break from the party scene, there are plenty of activities to do in Las Vegas during the day like:
Tour the Grand Canyon and Hoover Dam
Explore the Stratosphere Observation Deck
Discover Siegfried & Roy's Secret Garden and Dolphin Habitat
Ride the High Roller Observation Wheel
Stroll through the Mob Museum
Ride the attractions at the Adventuredome Theme Park
Enjoy Free Fall at Vegas Indoor Skydiving
Check out Red Rock Canyon
Q. What casinos are a must see in Las Vegas?
If you get a chance, visit all the casinos in Vegas. However, some of the popular ones are:
Caesars Palace - Best casino for sports betting
Bellagio - Best casino for poker
ARIA - Best casino for slots
MGM Grand - Best casino for non-gamblers
Golden Nugget - Best casino for diversity of table games
Red Rock Casino - Best off-Strip casino
The Cosmopolitan of Las Vegas - Best casino for foodies
Circus Circus Hotel & Casino - Best Casino for families
Q. What are the best things to do in Las Vegas with kids?
Believe it or not, Vegas is not only about casinos and gambling. It is also one of the best destinations for families looking for fun and new experiences. Some of the best things to do in Las Vegas with kids are:
Las Vegas Indoor Skydiving
Grand Canyon Spirit Helicopter Tour from South Rim
Mystère Cirque du Soleil
Tournament of Kings
Marvel's AVENGERS STATION
Wet'n'Wild Las Vegas
Q. Which are the Las Vegas dishes that one must try?
Some of the popular dishes of Las Vegas are:
Chicken 'N' Watermelon 'N' Waffles at Yardbird Southern Table and Bar
Le Caviar Imperial at Joël Robuchon Taipei
Foie Gras Cotton Candy at Bazaar Meat
Kobe Beef Filet with Wasabi at Aburiya Raku
Reuben-ish at The Goodwich Downtown
Margherita Pizza at Pizza Rock
Live Scallop at É By Jose Andres
Popular Destinations
Last updated at 23:52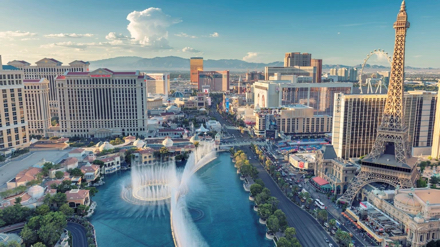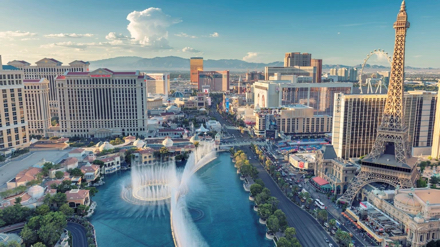 A property of every kind
in New York